Early Access Portals - Imaginary Report (Aug-Sept, 2019) - Imaginary Tech
« Call for Code 2019 – Imaginary Report (July 2019)
Imaginary Teleprompter 2.4 and other updates »
Early Access Portals – Imaginary Report (Aug-Sept, 2019)
Monday, September 30, 2019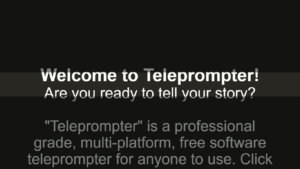 Free Software Piracy
Our popular free software teleprompter, Imaginary Teleprompter, is being illegally sold in violation of the General Public License agreement, at a prominent online software store we won't disclose yet. This was informed to us by a Teleprompter user through e-mail. We've been documenting each violation the free software license and hope to release a detailed report on this issue once all due process is completed.
Early Access Portals
We developed couple of web portals for client AdVice Global who asked us to create websites where people could redeem access codes to an early bird concert tickets sale to see the internationally acknowledged puertorrican reggaeton / urban singer, Daddy Yankee at the "Con Calma pa'l Choli" Concert.
The portals we were asked to create carried the Sprite and KFC brands respectively. We setup an infrastructure to withstand thousands of visitors at midnight, using load balancing technology, secured SSL connections, abstracted server topology, data center redundancy, and triple input validation redundancy.
Our sites received over 55,000 hits, from over 27,000 visitors all around the world, they responded instantly, and had 0 seconds of downtime. We estimate that our portals led to 70% of the ticket sales that sold out Daddy Yankee's concert within the first 30 minutes of this early bird sale. This is the first time in Puerto Rico's history that an event is sold out in less than half an hour, during an early bird sale.
Ticket purchases were not handled by Imaginary Sense, those were handled by Ticketera, another company also located at Engine-4.
Screenshots & Feedback
Here are some screenshots of how our sites looked like, and some of the feedback left on Twitter:
Update to the Imaginary Reports
I'm temporarily reducing the frequency of these reports. Announcements will be made in due time. In the meantime, these have been the remarks for the last two months.
« Call for Code 2019 – Imaginary Report (July 2019)
Imaginary Teleprompter 2.4 and other updates »